Coverages for Hospitals & Facilities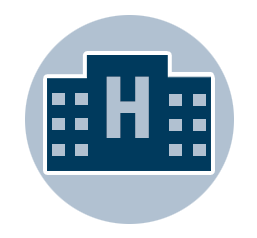 Experienced Insurance Management
LAMMICO personnel has vast experience and expertise in handling hospital and facility claims, legal defense, and insurance underwriting.
LAMMICO understands your concerns about medical malpractice and professional liability exposure. We insure hospitals, facilities, physicians and midlevel providers – giving you the benefit of working with a single carrier to effectively cover and lessen exposure. Learn about our Medical Professional Liability and General Liability coverage options for hospitals and facilities today.
Contact a LAMMICO Marketing Representative today to receive information regarding coverage in your area.
Why Hospitals & Facilities Choose LAMMICO:
Aggressive Legal Defense - LAMMICO closes about 90% of cases without indemnity payment because we have the best available, most experienced local counsel
Risk Management Resources – Leveraging lessons learned from our team's collective hospital healthcare risk management experiences as healthcare professionals, we personalize our RM services and activities to meet your needs
Financial Stability - AM Best has rated LAMMICO as "A" (Excellent), an indicator of our financial strength
Personalized Claim Handling – Superior, service-oriented representatives ensure personal contact and attendance at trial, no matter where you are located
Enduring Partnerships - Our commitment to healthcare providers since 1981 and advocacy in the courts and Legislature leads to a 92% policyholder retention rate
Mutual Interests - Without yielding to shareholders, LAMMICO has the best interest of your facility and medical staff in mind from the moment you insure with us
Stability - Physicians and healthcare professionals have trusted us for over 40 years
Why else is LAMMICO the superior provider of malpractice insurance?
Medical professional liability insurance coverage is for errors or omissions causing injury during the performance of a medical professional's duties.