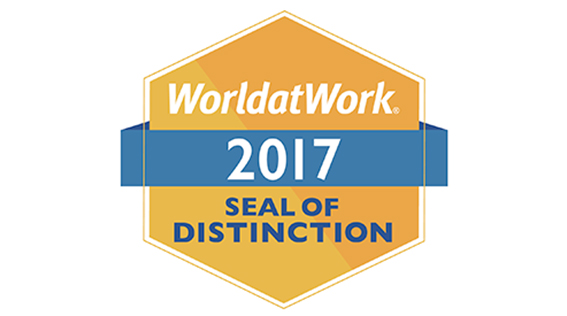 LAMMICO has earned the WorldatWork 2017 Seal of Distinction for meeting a defined standard that showcases LAMMICO as a consistent provider of a mutually beneficial workplace experience.
The 2017 Seal of Distinction is awarded every year to companies across North America that set the standard for employee engagement that leads to business success. The overall strength of a company's total rewards portfolio is evaluated along with the programs, policies and practices reflected in:
Health & wellness
Pay for time not worked
Unpaid time off
Retirement
Perquisites
Base pay
Bonus programs
Short-term incentives
Long-term incentives
Performance management
Recognition
Development opportunities
Caring for dependents
Culture initiatives & community involvement
Financial wellness
Workplace flexibility
Workforce experience
This year LAMMICO was among 160 companies from 35 states, the District of Columbia, and four Canadian provinces to be recognized with the 2017 Seal of Distinction. All 2017 Seal of Distinction companies will be celebrated at the WorldatWork Total Rewards Conference & Exhibition, May 7-10, in Washington, D.C.
To find out more about the WorldatWork Seal of Distinction, go to www.worldatwork.org/sealofdistinction.