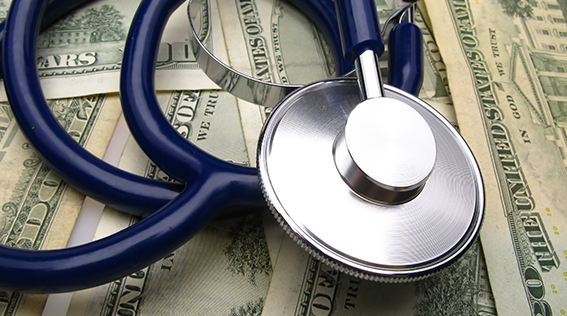 FACT: Over a 5-year period, a clinician generating $200,000 a year in Medicare charges is at risk of losing $50,000!
FACT: The laws in Louisiana have changed, and prescribers have to meet additional requirements before they prescribe opioids.
FACT: Compliance with the opioid legislation can help eligible clinicians avoid a 5% negative adjustment on future Medicare claims.
To avoid a negative 5% payment adjustment on all Medicare charges in 2020, Merit Based Incentive Program (MIPS) eligible clinicians, must earn a composite score of at least 15 points by submitting data in at least one performance category. Three of those performance categories have measures and activities that directly relate to the prescribing and management of opioids in a physician practice.
Improvement Activities
The Improvement Activities performance category is worth up to 15 points and is comprised of 94 high or medium weighted activities. For small practices, two medium weighted activities or one high weighted activity is enough to earn the full 15 points and avoid a penalty in 2018. Eligible clinicians can attest to performing the activities for 90 days with a simple "yes" via the QPP portal between January 1 and March 31 of 2019. No additional reporting is needed.
The opioid-related Improvement Activities are detailed below.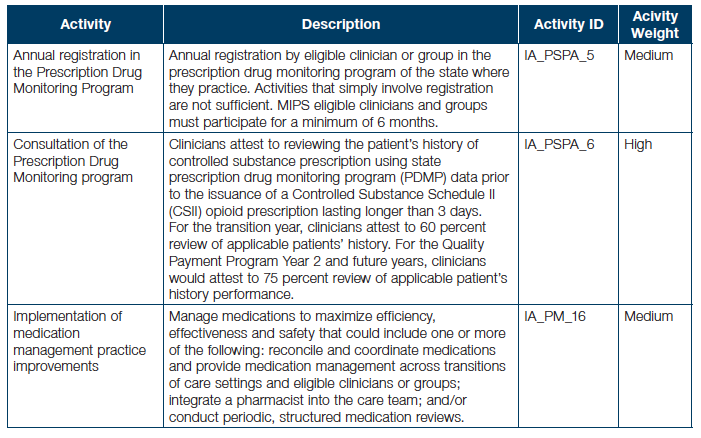 Quality
In order to earn the maximum of 60 points in the Quality performance category, eligible clinicians must report 6 measures for 12 months. Depending on the measure, Quality data can be reported in a variety of ways: on claims, via a Qualified Registry, Qualified Clinical Data Registry, direct through an EHR vendor or through the QPP portal.
The opioid-related Quality measures are listed below.

Promoting Interoperability (formerly known as Advancing Care Information)
To earn any of the 25 Promoting Interoperability category credits, eligible clinicians must have a certified 2014 or 2015 EHR and fulfill the requirements of the base score. One of those measures is Electronic Prescribing.

A MIPS eligible clinician must transmit at least one prescription to a pharmacist during the performance period. In Louisiana, controlled substances can be e-prescribed. In fact, a best practice to avoid issues with diversion is to e-prescribe.
For more information on these specific measures and activities, or for consultation regarding MIPS participation in your practice, please contact LAMMICO Practice Management Specialist, Natalie Cohen, MBA, MHA, at 504.841.2727 or at ncohen@lammico.com.