Joan Winters Burmaster Retires After 29 Years of Service to LAMMICO
After more than 29 years with LAMMICO, Joan Winters Burmaster, RN, JD, retired as LAMMICO General Counsel effective July 1, 2022. Following a comprehensive transition plan, LAMMICO has promoted John Dildy, MBA, JD, LLM, to succeed Burmaster as General Counsel.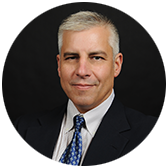 Dildy joined LAMMICO in 2007 as Litigation Manager & Claims Attorney and was promoted to Assistant General Counsel in 2011. He holds a bachelor's degree from University of Mississippi and a Master of Business Administration from Auburn University. In addition, Dildy earned a Juris Doctor from Tulane University Law School and a Master of Laws (LLM) in Health Law from Loyola University Chicago. He also earned Master of Laws (LLM) in Business Transactions from University of Alabama School of Law in Tuscaloosa.
Dildy is a veteran who graduated from U.S. Army Command and General Staff College. He deployed to Iraq in 2010 with the 256th Infantry Brigade Combat Team. Dildy continues to serve in the Louisiana Army National Guard as Lieutenant Colonel, Judge Advocate.
"John is a talented legal and insurance executive whose experience will continue to serve LAMMICO and our insureds as he steps up to be General Counsel," says J. Michael Conerly, M.D., President and Chief Executive Officer of LAMMICO. "John's military leadership and proven track record of serving our insured healthcare providers make me confident that he will succeed in this role."
In 1993, Burmaster began working at LAMMICO as in-house counsel. She became managing attorney in 1995. Burmaster was General Counsel for 24 years, and is leaving LAMMICO to enjoy a well-deserved retirement, including her vocation as a new grandmother.
"Joan has served LAMMICO for almost 30 years as a dedicated advocate for healthcare providers," adds Dr. Conerly. "I appreciate all that she has contributed to the success of the Company over the years. As a nurse and an attorney, Joan made a tremendous impact on LAMMICO and the healthcare providers we insure. Her leadership and professionalism wherever she represented LAMMICO, especially as an advocate on behalf of healthcare providers on legislative matters, will be sorely missed. We wish her all the best in retirement and as a loving grandparent."