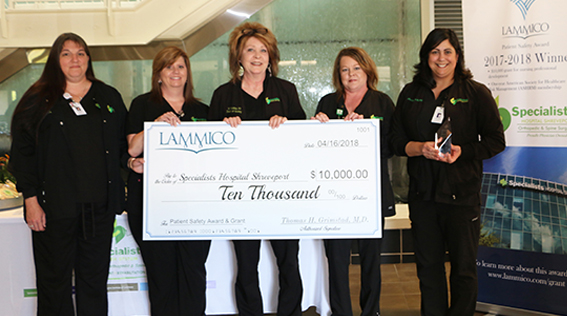 Nurses are problem solvers. Patient and family complaints come to them. Physicians' concerns and frustrations come to them. They are constantly challenged to provide exceptional care with many factors beyond their control.
From the beginning of a nurse's training, he or she has learned to be strong and to take care of others. So, they keep toiling on – staying late to complete documentation, taking extra shifts because staffing ratios aren't optimal – until they are exhausted and discouraged. They may feel inefficient, or they may be thinking about looking for another job, possibly one outside of the nursing profession. They're burned out. And with the grinding stress of today's nursing practice, so are about 40% of their nursing colleagues.
LAMMICO is partnering with the healthcare community to identify nurse burnout and its risks – risks to the well-being of trained and caring professionals, risks to the dependable functioning of hospitals and healthcare facilities, and ultimately risks to patients. By focusing the theme of the 2018-2019 Patient Safety Award and Grant program on nurse burnout, LAMMICO hopes to foster personal and institutional strategies that help nurses thrive.
To do this, LAMMICO is linking the 2018-2019 Award and Grant Program to its online educational activity entitled "Nurse Well-Being: The Burnout Dilemma." This training will empower those who complete the course to:
Identify conditions that lead to burnout
Develop personal strategies to decrease their own stress and burnout
Work with others in their units or facilities to establish a program, process, exercise, activity or technique to diminish burnout
Ensure administrative level support for successful implementation
The Award and Grant Program is open to all hospitals and ambulatory surgery centers in Louisiana, Arkansas and Mississippi. The facility that can best demonstrate implementation of strategies that reduce the symptoms of burnout will be awarded:
A $10,000 grant to the winner of our program to be used for nursing professional development
A $2,000 grant to an honoree to be used for nursing professional development
One-year Risk Manager membership to the American Society for Healthcare Risk Management (ASHRM)
One-year complimentary membership to Medical Interactive Community for all employees to access our risk management and patient safety CME/CNE/MOC courses online
Visit www.lammico.com/grant to learn the program objectives and requirements, and to download the award and grant application. Applications will be accepted from May 1, 2018 to January 31, 2019.
Questions?
Contact Lynne Vega, R.N.,BSN, LAMMICO Hospital Risk Management Specialist, at lvega@lammico.com or 504.841.2738.