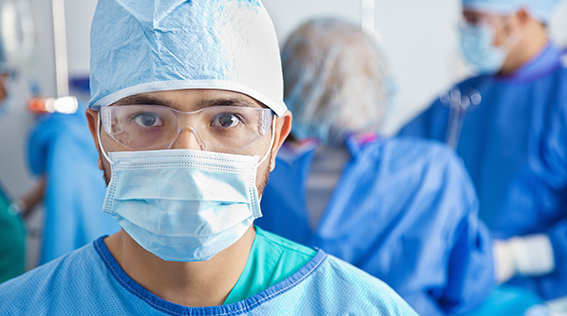 Upcoming Webinars
Last year, LAMMICO hosted its first live webinar on the Quality Payment Program. Because this webinar was so well-received, we've decided to change the format of our 2019 Lecture II series from a live lecture to a live webinar. For the convenience of our policyholders, the 2019 Lecture II Webinar will be held twice: Thursday, September 12, at 6 p.m. and Thursday, September 19 at noon.
The topic of Lecture II will center on physician communication. The ways physicians are communicating with other physicians, advanced practice providers and patients have exploded – and may lead to miscommunication or a failure to communicate. Medical adverse events, delays in diagnosis or treatment and medical malpractice claims have been associated with communication issues. Strategies to address risk areas of communication, both verbal and written (such as the medical records, patient portals, texts and emails) will be addressed to help improve communication in this ever-changing healthcare landscape.
LAMMICO will also host a webinar for advance practice providers on May 9 and 23 on the liability risks associated with establishing and ending provider/patient relationships.
In addition to the webinars, LAMMICO will still hold live lecture presentations throughout Louisiana for Lecture I – "Physician Care Coordination: Referrals, Consults and Claims." For more information and a schedule of live events, please click here.
Physician Litigation Stress Resources and Peer Consultation
LAMMICO cares for our insureds currently experiencing a claim by offering realistic ways to cope with the anger, fear and frustration of the litigation process. Malpractice litigation can impact all aspects of a healthcare provider's life. That's why LAMMICO offers insureds a unique opportunity to address the situation head-on, before the strain negatively influences other aspects of your profession.
Although LAMMICO will not hold a Litigation Stress Management lecture series in 2019, we are pleased to offer increased support in the form of individualized resources. Through its subsidiary, Medical Interactive Community, LAMMICO provides videos, resources and tools to prepare healthcare providers to assist in their own defense, testify in depositions, and manage the personal and professional stress of litigation.
Additionally, LAMMICO insureds experiencing a claim may request a physician litigation stress peer consultation with Pamela J. Parsons, M.D. Please call LAMMICO's Risk Management and Patient Safety Department at 504.841.5211 to request a private consultation.
Provider Well-Being Peer Consultation
Stress in the healthcare setting is high. Studies across healthcare professionals show increasing stress levels, and as many as 30 to 60 percent of providers meet criteria for burnout. Burnout contributes to a poor quality of life for healthcare professionals who are experiencing it. In addition, stress and burnout can affect quality of care and safety of patients. This peer consultation offers strategies to reduce burnout
and promote provider well-being.
To request a provider well-being consultation for an individual or a group with Pamela J. Parsons, M.D., please call LAMMICO's Risk Management and Patient Safety Department at 504.841.5211.